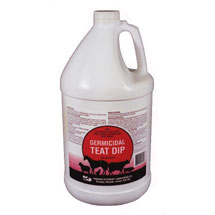 Teat Dip

Indicaciones:

Este germicida está indicado para el uso como una ayuda en el control de las bacterias que causan mastitis.

Dosis y administración:
Uselo puro inmediatamente después que cada vaca es ordeñada. Sumerja las tetillas en el germicida cuando la ubre de la vaca está siendo secada.
Las tetillas deberían ser sumerjidas una vez por día por 3 o 4 días después del último ordeñe (en caso de haber más de un ordeñe diario).
Lave las tetillas y ubres antes del ordeñe.
Advertencia(s):
Evite su contacto con alimentos.
No lo use para la limpieza y desinfección del equipo de ordeñe.
Para uso veterinario solamente. Manténgase fuera del alcance de los niños.
Composición:
Complejo de yodo polihidroxílico (nonilfenil oxietileno) equivalente a 1 % de yodo titulable.
Presentación y embalaje:
Recipientes por 4 litros; 4 recipientes / caja

Ccaution:
Avoid contact with food.
Do not use for cleaning and/or sanitizing milk equipment.
Keep out of the reach of children.
Unit Size:
4 litres
4 jugs per carton
TEAT DIP & Biodine vs THE REST
| | | |
| --- | --- | --- |
| Product | Active Ingredients | Percentage |
| Biodine (DVL) | Titratable Iodine Equivalency | 1.75% |
| Teat Dip (DVL) | Titratable Iodine Equivalency | 1.00% |
| Teat Dip (Citadel) | Titratable Iodine Equivalency | 1.00% |
| Teat Dip (ECOLAB) | Titratable Iodine Equivalency | 1.00% |